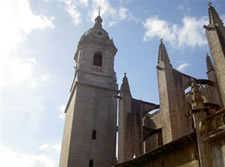 Presents auxiliary support of two types of flying buttress.
The apse pinnacles have pyramidal shape with teeth decorations, the rest, slimmer on the top roof and of a bigger volume, those above the lower, some with animals representations and others with moldings of skull shapes.


A sand stone crest surrounds the top side. Gargoyles better view from south side.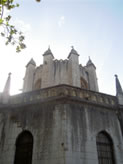 The light comes in from the east, south and west sides while is blind on the north wall.
At the top of the apse opens three pointed arch stain glass windows each with three divisions and proper base in circles tracery, there is one with four and the rest has differences.
At the west, the church presents two lower round windows at the side alleys, in the center alley the main stain glass window. There are others in the inside at the south part of the building but special look to a small window located at the back side of the apse [above Pascual Abaroa's tomb] that previously may have been exterior but became interior.